You know it's Monday, most of thing goes wrong ; you are late , the bicycle support just break down , the many project you have in the head and no time to finish them.
But also you have seen a sad, cry out your eyes when you watched a episode of your favorite TV show .

In this case Game of thrones.


And you headed to work... and there are over time
Your voice ,well the cold you having seen to take the voice.. .
Yes ; today I feel like a mess

Well then when you get home and more or less meet a packet from a dear friend.
Oh my , that make the day warmer and happier
I most say thank you my dear friend Yukimizake
As you see I love gloomy bear too .. I were so happy
I really go a big surprise when I opened the packet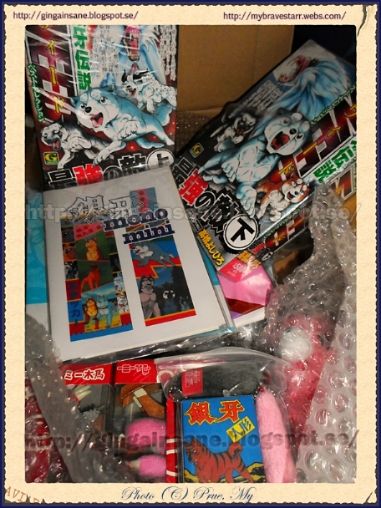 Drool attack, indeed ; )
I know about the Weed manga, Ginga mono mini booklet and a small pack with Gloomy bears
The post cards, art of Yoshihiro Takahashi. Love them to.
I have never seen one in real life and If and I remember right only one on some auction. But that were a time ago
But wow I were really surprise and had big eyes for a time when I look at the tings.
I never though I will ever get a Ginga Nagareboshi Gin Figures paper box, the small one...
You can probably I got big eyes and a smile on my face ^^
Gloomy bears paw keyring, bear keyring, two File cases, figures
and a plastic bag case ....
I just got Gloomy Bear fever there ; )
Just thank you one more time Yukimizake
I hope you packet will come to you very soon
So I will update on ;
Ginga Densetsu Weed Manga

Ginga mono mini
As I did with ; Ginga Mono

Show the Ginga Nagareboshi Gin Figures paper boxes

I will

aswell

show the dog post cards by Yoshihiro Takahashi.
The postcards are from the year 2006.
No, it's not Ginga
But one remind me about a dog in the manga book :

Shounen to inu remix & Ginga no inutachi
I just need time to update so I can't say when
But very soon my friends ^^