I got a new packet today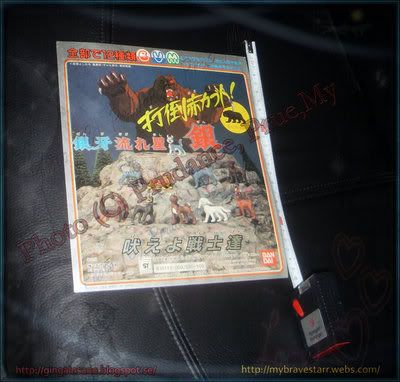 It's a poster or paper advertising for the set 1 of the Ginga Nagareboshi Gin figures
The size:
In height: 25,5 cm ,width : 21,7cm
Other ; You can read a text that says
BANDAI 1986 Made In Japan
As you see it Akakabuto on the top , both A & B figures , then Gin and this one is painted
And there you have the rest of the dog pack from set 1 , all pained
So you can get an idea how they can look when you add colors on the figures.
There are a lot of text, ads that I just have for a short time look at.
But I haven't done any research on
.
This one did cost a specially when it come to the shipping cost.
Still it's a bit weird to see the big packet and see later it's were a small poster/paper ad inside
Well, at lest this one were pack really well and protected indeed.
There were a fight to win the auction, this time. And cost more then I have thought
Hm I think I have only seen this on two time , one in year 2006 , 2007 or something at Yahoo auctions. And second time this year.
So I'm happy to got this one, even that this one were a expensive to get.
I wondering if there were a poster/paper ad for set 2 as well. I guess that can be a bit hard to get , even now the years gone by.
At lest the are a confirmation when set 1 of the
Ginga Nagareboshi Gin figures
As the tag that come with the
vending
machines figures and this add
The year they came were in 1986
For set 1 at lest
From the
vending machines figures set 2 , the tag says the year 1987. One year after set 1
I think I have talk much about that here:
Random GNG figures thoughts
Still I missing two manga books from Shoppingmalljapan, the
Middlemen that I use .
So we see when the packet four will come ...
Soon I hope at lest