They called him ;
" The Strongest Dog Of All Time "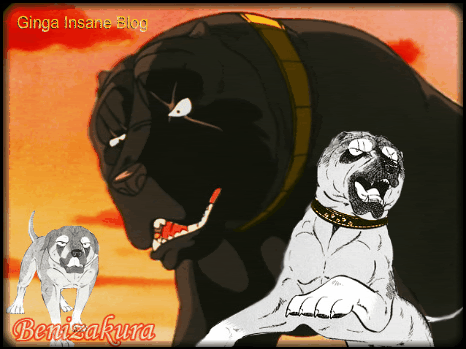 Images from Ginga Nagareboshi Gin anime, the manga and Shin Gaiden.
Benizakura the
old man
who become a legend
Fearful dog fighter, once the champion in the arena . He made his name famous fighting
But also one of the memorable character from the series of Ginga Nagareboshi Gin.
At lest in the Scandinavian countries
Either if you have Benizakura as a favorite or not one thing is for sure : He made a impression
Here is a great fan-video : About Benizakura
Made by user HAKUROJAKI
Beni
(called by fans)
gave a impression some kind of Warrior Soul
He were high-spirited ,had honor and were deadly in battle. But also impressed spirit,he wise, thoughtful, at same time impulsive,had determination and the courage. As well as a warm, gentle heart.
At a young age Benizakura show talent when it came to the
art
of fighting.
A life time in the arena, more or less.
But after meeting his old nemesis, rival Tsuna Arashi
Benizakura took a other way in life ...
And year later a new path come to Benizakura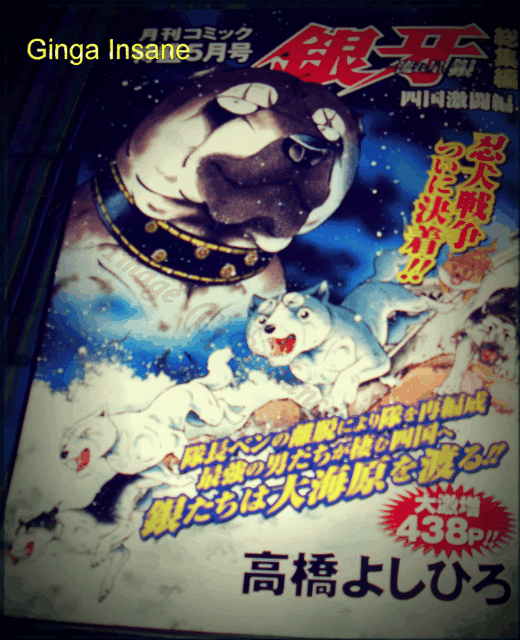 But even Benizakura wasn't ready when he meet Cross, the Saluki, Gin the Akita.
They both impress him and also change his life
.
Benizakura destiny become something els
A Solider, Warrior ...
In a bear war more or less
As a veteran and a wise fighter, soldier Benizakura gave advise and inspire courage when time time closed more and more. When the Ou warrior closed to their mission:
"The war against the bears in the northern mountain"
In the cut series the Swedish edition had
(both vhs and part of the dvd release)
fans didn't see or got to know the fate of Benizakura.
Not until the release of the uncut , or if they saw the more uncut scenes of the Korean version.
That you could found on the net, at that time. Or buy, some try to make money to sell pirate copy's on the Korean version and did, try to sell to fans.
At that time it were hard to find info and see the uncut scenes from the series.
Benizakura had
most interesting fighting scenes and
one of the
heroic deaths.
It's hard not to be
touch when Cross are saved by Beni and his owner
And she tell him about her mission.
To find the little leader Gin and tell him about the important message, news.
And how Gin challenges Benizakura in a deadly fight.
And how later , after many adventures, fight, moments :
Benizakura the fighting champion gets the
heroic death.
Fighting the bear Mosa and
drown in the process.
Beni give his life to kill Mosa and are calm in the every end
A moment that t
ouch
the heart and can make the tear fall down the
cheeks.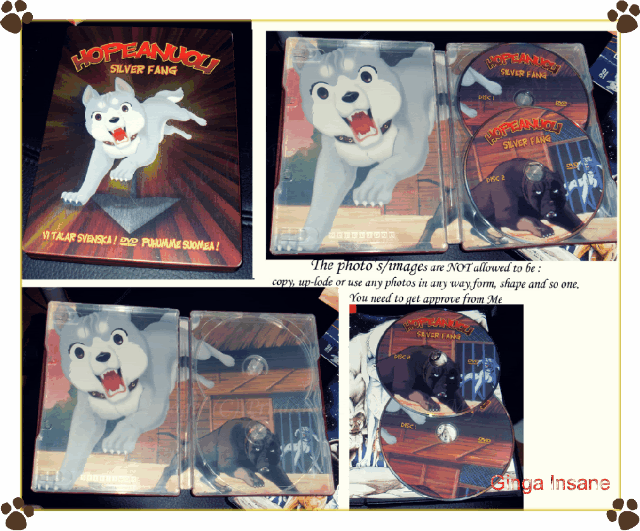 Gin & Benizakura theme on the dvd
"Hopeanuoli" ・ "Silver Fang box "
(Steelbook, Metalbox)
were release in the year 2002-2005
This box came out in Finland and Sweden. And had both the uncut and the cut series
Language setup ; Finnish, Swedish, Hungarian, Japanese
As you see there is a small theme with Gin and Beni. Well not forget Cross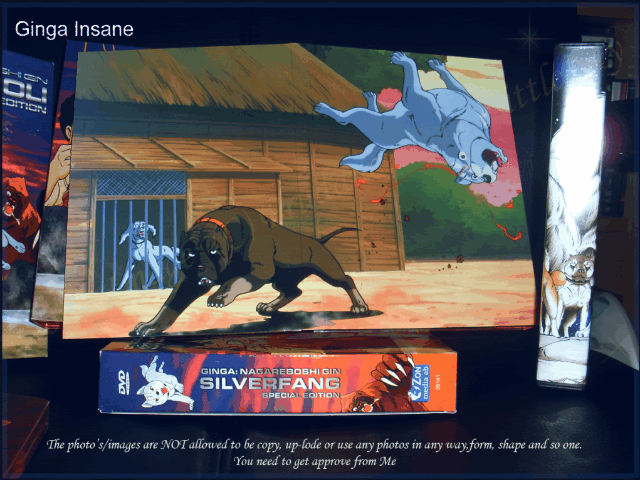 A famous scene when Gin try to fight Benizakura. In the background you see Cross
Silver Fang, Hopeanuoli - Ginga Nagareboshi were ones more released uncut and with Japanese speak
(Swedish, Finnish sub )
in the year of 2003.
And the name were ;
"Ginga Nagareboshi Gin: Silver Fang Special Edition DVD-Box"
This box were release at Sweden and Finland. And at first the box came out with a Finnish text on the cover. Later this one came out with Swedish text on the cover.
The special with the box is at one part Benizakura vs Gin image.
There are two image one with Gin and the gang,pack at the wild sea
Ready to jump in to swim to Shikoku.
And the other one as you see Gin & Benizakura fighting.
Well Beni make Gin fly , in a way : )
You see also in the image, photo the Japanese Ginga Nagareboshi Gin dvd Box .
That one were release in the year of 2008.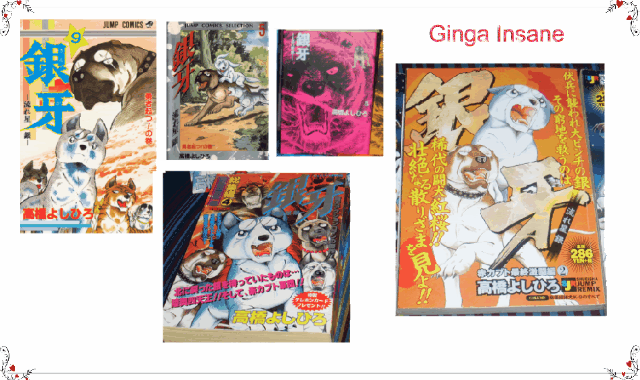 Some of the manga's with Benizukura on the cover
I haven't seen any
merchandise, items with Benizakura.
Besides GNG figures set, on set two there is a small figure Benizakura
(from the rare set 2)
And the lilac colors poster from one of the manga edition 2000-2001 (
"telephone edition")
As well as the
stickers,Magnet ;Cards Collection's
Perhaps I have missed, haven't seen any
In the year of 2010 we got to know a bit more of Benizakures past
In Business Jump (Shueisha) magazine Benizakuras past were published.Year 2010

(in three parts,volumes?)



The manga: Shin Gaiden vol 2
You see on the photo one manga with obi and one other with out
Here is a sweet fan-video : About Benizakura's past
Made by user HYAENA666
Benizakura show up as a ghost in the series of Ginga Densetsu Weed.
When Weed

(son of Gin)

Fights Hougen
In a interview last year Yoshihiro Takahashi announce that one of his favorite character were Benizakura : )
So that were some thought, I guess facts about Benizakura.
He made a impression for some of us fans and are in our hearts
As a True Warrior, wise Soul.
He inspire courage and showed determination in his way's.
A strong Ou warrior and a legend
It's hard to not remember Benizakura, right ? ; )
He still impress me, when I look at the anime ;Ginga Nagareboshi Gin
One other think make me wonder;
How many owners had Benizakura ?
And how did he meet the boy, human boy who seem to be the owner to him.
Before Benizakura leave the boy to Join the Ou Warriors
Have Benizakura any offspring ?

And how did it go for his brothers ?
Many thought and questions that can comes to mind ...
When I think about this legend
Do you remember Benizakura ?